As an IT startup, you face unique challenges when recruiting new talent. You need people who are excited about being a part of a young, growing company—and you needed them yesterday. But how do you find these people? And once you do, how do you motivate them to come on board?
In this article, we'll explore the differences between recruiting for IT startups and big well-established organizations. We'll also give you some tips on how to overcome the challenges of recruiting for your startup.
Why is building recruiting processes essential for startups?
Building a good recruiting process is essential for any startup. It might seem like an unnecessary expense at first, but in the long run it will save you time and money.
A well-oiled recruiting process will help you attract and hire the best talent in your field. It will also help you weed out the people who are not a good fit for your company. This is important, because the last thing you want is to have someone working for you who is not happy or does not share your company's values.
The Different Approaches to Recruiting in IT Startups and Large Organizations
The recruitment process in a startup is much different than in a big, well-established organization.
The competition for top talent is fierce, and it's hard to stand out from the crowd. You're up against big, well-established companies with deep pockets and a lot of resources. They can offer employees a bigger salary and more benefits, and they can take longer to make a decision.
In a startup, you have to wear many hats and learn how to do things that are outside of your comfort zone. The same can be said of recruiting. When recruiting for a startup, you have to be scrappy, creative, and resourceful. You also have to be prepared to change your approach on the fly and be flexible in your thinking.
In a startup, the responsibility for recruiting falls on the founders. The founders are looking for people who are passionate about technology and are willing to take risks and work hard to achieve success.
In a big company, the recruitment process is usually handled by HR professionals and the process is much more formalized. They have the experience and expertise to find the best candidates and weed out the ones that are not a good fit. There are also usually established relationships with vendors and other organizations.
So, when recruiting for a startup, you need to be prepared to think outside the box and be flexible in your approaches. And when recruiting for a large organization, you need to be prepared to follow a more structured process.
This can be a daunting task, but with some planning and organization it can be done successfully.
How do you build the recruitment process in an IT startup?
There are ways to overcome these challenges and find the right people for your team. Here are a few tips:
1. Be clear about what you're looking for. The more specific you are, the easier it will be to find someone who matches your requirements. Start by creating a job description that accurately reflects the needs of your company. Identify the key skills and experience that are essential for the position.
2. Stay focused on your mission and culture. Don't try to be like everyone else; be true to yourself and what you stand for. This will help you attract the right type of employee.
3. Offer a competitive salary and benefits package. This is one way to stand out from the competition.
4. Be patient. It may take time to find the right person, but it's worth the wait.
5. Cast a wide net and recruit from all sources: online job boards, social media, referrals, etc.
6. Be creative. Getting creative with your recruitment process can help you stand out from the competition and attract top talent. So, don't be afraid to think outside the box! Use videos, infographics and other forms of media to reel in top talent.
7. Keep it simple. The recruitment process in a startup should be simple and straightforward. There's no need for a lot of bells and whistles.
8. Be flexible. Startups are by nature flexible and adaptable, so your recruitment process should be too. Don't be afraid to change things up if you're not getting the results you want.
9. Follow up…and follow up again. When you're recruiting for a startup, you can't afford to let any leads slip through the cracks. So make sure you follow up with every single person you talk to—multiple times if necessary.
Best Practices for Recruiting in IT Startups
When it comes to recruiting for IT startups, the best practices are not always so obvious. But never fear—we're here to help!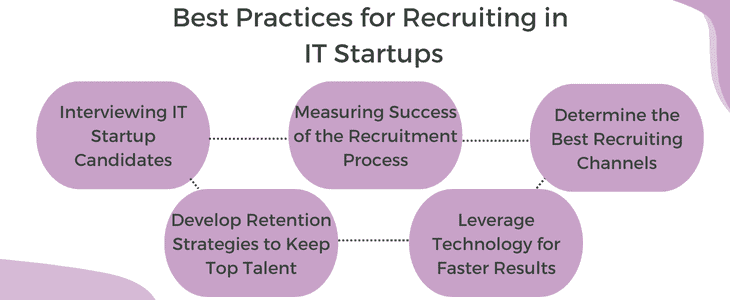 Determine the Best Recruiting Channels
1. Traditional job boards: these are the most common ways to find talent, and they allow you to post your job openings widely.
2. Social media: social media is a great way to connect with potential candidates who might not be looking for a job right now, but who could be interested in your company.
3. Referrals: word-of-mouth is always the best recruiting tool, and you can encourage your current employees to refer their friends and family members who might be a good fit for your company.
4. Campus recruiting: campus recruiting is a great way to find new talent, and many colleges and universities have career centers that can help you connect with the best candidates.
Leverage Technology for Faster Results
These days, technology has been a great asset to IT startups when it comes to recruiting. It provides a variety of options to reach potential candidates quickly and efficiently. You can leverage a range of tools such as social media platforms, job boards, applicant tracking systems (ATS), and even automated recruitment services.
An ATS allows you to manage applications more efficiently. This tech tool streamlines the recruitment process by automating mundane tasks such as reviewing resumes, scheduling interviews, and managing communication with applicants. It helps you make faster decisions about your candidates.
Finally, an automated recruiting service is ideal for identifying high-caliber passive candidates that you might not find elsewhere. It helps save time by bringing those suitable candidates right at your doorstep who would be a perfect fit for your organization's culture and goals.
Interviewing IT Startup Candidates
So, what are the best practices for interviewing IT startup candidates? Well, the first thing to do is develop a job description that accurately reflects the role you're hiring for. This will help you screen candidates more quickly and effectively.
Secondly, make sure you're prepared for interviews. That means having a list of questions ready to go, as well as knowing what you're looking for in a candidate. And finally, be prepared to sell your company and its vision. Your candidates will be asking themselves, "Do I want to work here?" so make sure you can answer that with a resounding "Yes!"
Develop Retention Strategies to Keep Top Talent
One of the most important things to consider when it comes to recruiting is retention. After all, if you're bringing in great talent, you want to ensure they stay onboard and stick around. That's why it's so important to develop retention strategies that will keep your top-notch talent happy and motivated to stay.
You can offer incentives and rewards, such as regular feedback and recognition for great performance, as well as professional development opportunities that can help employees grow within your organization.
In addition, creating a positive work culture with strong values and an emphasis on collaboration can be a key factor in retaining good employees. Showing appreciation for team members' efforts not only boosts morale but also makes people feel seen and heard–which goes a long way in creating job satisfaction.
Measuring Success of the Recruitment Process
Now that you have built your recruitment process, it is important for you to measure its success. This can be done by tracking the number of applicants who pass through the recruitment process and the number of new hires.
You should also keep track of the time it takes to make a hire and how satisfied your candidates are with their experience during the recruitment process. This can be done through surveys or feedback forms after each step in the hiring process.
In addition, you should pay attention to how many of your new hires stay for at least six months—this is one of the best indicators of a successful recruitment process since it shows how well your hiring process is working. Tracking these metrics over time will help you assess and adjust your recruitment process as needed, ensuring that it is as effective as possible in finding ideal candidates for your IT startup.
Conclusion
In short, recruiting for IT startups is a completely different ballgame than recruiting for big or well-established organizations. The challenges are different, and the strategies you need to succeed are different.
If you're looking to recruit for an IT startup, the most important thing you can do is to understand
the challenges involved and tailor your approach accordingly. With the right approach, you can overcome the challenges and find the best talent for your startup.
Building a recruitment process tailored to IT startups doesn't have to be complicated. By following the steps laid out in this guide, you can develop a process that is efficient, effective, and attracts top talent.
Start by defining your ideal candidate and understanding the role they will play in your company. Then, build a sourcing strategy that will help you reach the right candidates. Next, create an assessment process that will help you identify the strongest candidates. Finally, close the deal by extending an offer that the candidate can't refuse.
By following these steps, you can develop a recruitment process that will help you build a strong IT team for your startup. Also you can contact us and we will also be happy to help you in the selection of top talents in the international IT market!